So everyone has heard about the dog which broke into the F1 race track during the practice session,right????Yours Monumentally Cranky finally managed to get hold of that black dog for an exclusive interview.Hope you enjoy it.:-)
Who let the dogs out?Who..who..who..
Monumentally Cranky: So how does it feel to make it to the newspaper headlines? And what's with that blue scarf?[To himself]*
Looks kinda adorable though!!*
Black Dog:Woof!!
Blue scarf!!The latest rage in dog fashion!!!All bitches simply dig this stuff.
MC:Umm...is that supposed to mean anything?
BD:Woof!Woof!
MC:Darn!!!!Sorry,my bad!!!Forgot to switch on my Canine Audio Translator.[To himself]*
Funny,it abbreviates to C.A.T. I thought dogs hate cats!*
BD: Now you hear me,bonehead?I was barking my lungs out at you so long to turn that barking translator gizmo on,idiot!!!!!!!
Grrrr!!How do you plan on bridging the communication gap,you moron????
MC:My profuse apologies.This gadget is new to me,you see.But now getting back to my question-so how does it feel to gain international fame and recognition?
BD: Ahh,I can't express how good it feels right now .I have finally made my family proud.My uncle had walked into the Commonwealth games last year.Held up the womens' 400 m hurdles in the process.Ever since then,my dad and mom have had high expectations from me.It feels great to have finally made this large.My parents' prayers have been answered.My mom even went to the extent of distributing free bones to all the dogs in our locality to celebrate my achievement.And all my pals were chanting repeatedly throughout the night "That sonofabitch has done it!!That sonofabitch has done it!!!" It was quite an overwhelming feeling.
Black Dog,you the man!!!!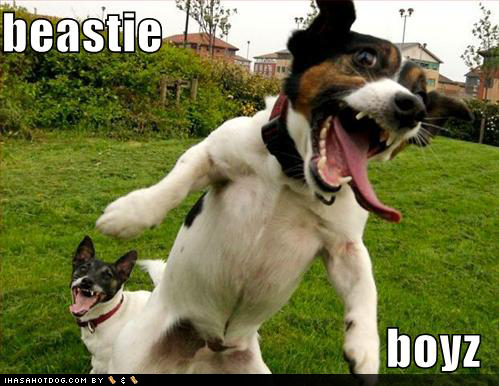 Sonofabitch has done it!!!!Sonofabitch has done it!!!!
MC:Ohhh!!So that's what all the howling in the night was all about.
BD:Rarf!!!!Yep,I told em to keep it down lest you humans wake up and think the end of the world has been pre-poned to yesterday night.But they wouldn't listen.Can't blame 'em either.With all those fleas in their fur,it is quite easy for them to get all hyper and stuff.
Honey!!Could you please pass on the Itch-guard?The fleas are giving me a hard time again!!
MC:Quite understandable.What you've done is no mean feat.You broke past tight security and managed to hold up the practice session for no less than five minutes.Why people are now even laying bets on whether you or someone like you would make a reappearance in F1 soon.What do you have to say about that?
BD:If people want an encore,they'll get an encore.Some of the boys in my neighborhood are gearing up for their own shots at their five minutes of fame.So I guess you can expect plenty of canine action in the days to come!!!
MC:Any particular reason for choosing a F1 track to make your appearance?
BD:You mean,apart from instant recognition in national and international media?Well..this is a bit embarrassing..but yeah
.[If he wasn't all black and stuff,I'm sure I could have seen him blush now]
MC:What is it?I can smell something mushy and romantic here.
BD:Duh!!You leave the smelling job to us,media boy!!It's our job to smell stuff-people's asses,other dogs' asses,garbage dumps,bombs,your 3-day old Subway sandwich,everything.But yeah,you are right.There is a cute bitch in my locality who I have the hots for.This F1 stunt I pulled was kinda my way of proving my alpha-male machismo to her
.[winks]
Girl you are my Chammak Challo,Where you gonna go,I am gonna follow!!!
MC: I bet she must be a bitch on heat now!!!!
BD: You've no idea!!!!!With my mom and dad's blessings and her mom and dad's blessings,we are planning to start our own litter soon.We need to take care of our family planning aspects first though.I think we are gonna stick with five puppies or so a year for now.
They all went after their mother,you see!!!!
MC:Thanks for taking out the time.And here is wishing you best of luck for your future endeavors.May more race tracks and sport stadiums be witness to your shiny black fur!!
BD:Woof!!!
P.S.That last 'Woof!!!' is just dog lingo for 'Amen to that!!!!You ain't seen anything yet!!!!' :-D